As we enter the final quarter of the year, many will be pleased to see the end of 2020. It has been an exceptionally volatile year so far, but the next three months could still produce a few surprises. Politics will be a clear focus in the coming weeks, with the New Zealand (NZ) election taking place in October and the US Presidential election in November.
The NZ election is shaping up as Labours to lose, and while the Greens are likely to return to Parliament, it could be the end of an era for Winston Peters as NZ First is struggling to reach the 5% threshold. The appointment of Judith Collins as Leader of the National Party has not provided the stability expected, while The Act Party appear to be on target to increase from one member of Parliament to as many as ten.
The US election is perhaps more intriguing, and it will certainly have more ramifications for the global economy and financial markets. While the polls count Joe Biden ahead, it is difficult to write off the unpredictable Donald Trump. This will be a very close fight. Investment markets like certainty, any uncertainty before or after the US election is likely to lead to volatility and could create investor opportunities for long-term investors in the event of share price weakness.
The European Union has launched a legal case against the United Kingdom for undercutting their Brexit agreement, while one of the country's senior ministers says differences remained in talks on a new trade deal.
In New Zealand, low mortgage rates and high rents have compelled first home buyers to borrow $1.34 Billion in new mortgage lending in the month of August. An increase of 45% of first home buyer mortgages compared to the same month last year, according to Reserve Bank of New Zealand figures. With Covid, it is possible that New Zealand could experience negative interest rates in 2021, although this is likely to be at the wholesale banking level only. Homeowners won't have the luxury of negative interest rates and depositors will not be forced to pay the bank for holding money.
Currency continues as a point of frustration for investors looking to switch as the exchange rate appears to be stuck in a tight band between $1.90 and $2.00 to the Pound Sterling. While many investors expect currency should be above $2.10 we note from the historical graphs below that this mark has only been breached briefly over the last four years; October 2018, October 2019, and April 2020.
GBP / NZD exchange rate for five years to 30 September 2020: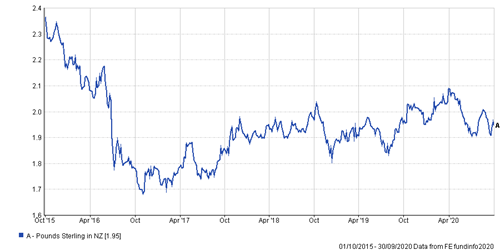 AUD / NZD exchange rate for five years to 30 September 2020: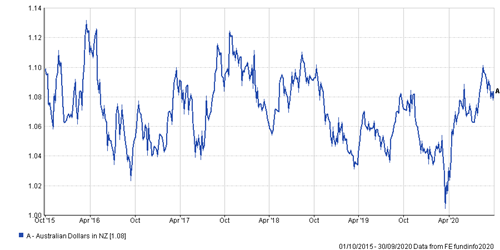 Contact Garrison Bridge
To get a free assessment:
Call us on 0800 254 338 or email us at super@garrisonbridge.co.nz