March proved to be a positive month across the Garrison Bridge portfolios with the GBP Growth Fund leading the way, adding +3.02% for the month. GBP Conservative Fund added +0.42%, NZD Conservative increased +0.88%, NZD Growth up +1.98% and the AUD Balanced Fund returned 2.10%.
Our longer term returns are noteworthy and we are pleased that each of the individual strategies are behaving as we would expect, that is to say the Growth style funds outperforming the Conservative strategies.
Turning our attention to world events, investment markets responded strongly during March to a number of positive news items. One key measure of any economy is job creation and unemployment rates. On this point, the US added 916,000 more jobs in March and unemployment dropped 6%. A rise in consumer demand saw US factory product and sales surge, while China, a major contributor to the global supply chain, also reportedly struggled to keep up with demand last month.
As we wrote in the February update, investors have in recent months rotated from high growth technology stocks to more traditional businesses. This is evidenced by the Dow Jones Industrial Index outperforming the technology focused Nasdaq index by 7% in March. Investors and markets were further buoyed by President Bidens massive $2.25 Trillion infrastructure spending program, with the S&P500 hitting new record highs.
Covid 'third waves' in Europe, lockdowns and vaccine rollouts continued to dominate headlines, indicating the world is not completely out of trouble just yet. Better news in the UK where the office for National Statistics reports that roughly half the population now has antibodies to Covid-19. The number is at 90% for elderly people, a result of the targeted vaccination campaign towards this sector of the population. It appears that the vaccine rollout and re-emergence from lockdowns in the UK is putting a bit of wind in the sails of the GBP/NZD exchange rate, rising from $1.87 to $1.96 in the first quarter of the year.
The proposed travel bubble between NZ and Australian is expected to bring a boost to the NZ tourism industry, just in time for the ski season.
GBP / NZD exchange rate for five years to 31 March 2021: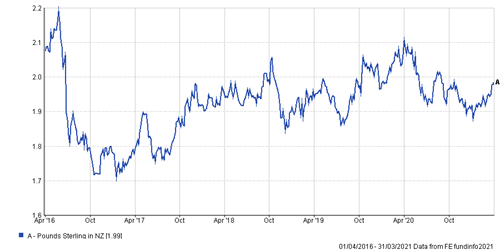 AUD / NZD exchange rate for five years to 31 March 2021: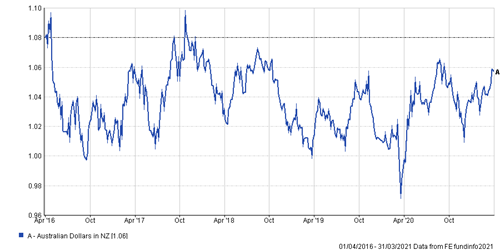 Contact Garrison Bridge
To get a free assessment:
Call us on 0800 254 338 or email us at super@garrisonbridge.co.nz