Rising interest rates and escalating inflation numbers are the two key subjects on all investors' minds as we approach the end of the calendar year. The Reserve Bank of New Zealand (RBNZ) increased the Official Cash Rate (OCR) in September with further increases expected at the next scheduled meeting on the 24th of November. Mortgage rates offered by the big banks have already leaped ahead in expectation of further OCR increases, with both ASB and Westpac lifting rates in recent weeks; it appears that the historically low interest rates that homeowners have enjoyed are now behind us. The RBNZ is in a tough spot as they try to rein in the rampant housing market and at the same time control inflation numbers (in September inflation hit a decade high of 4.5%), all without upsetting newly mortgaged homeowners.
The above concerns resulted in a tough month for New Zealand investment markets, with the S&P/NZX 50 index returning -1.33%. International markets performed positively with the S&P500 adding 5.60%, the Nasdaq racing ahead with +6.20% and the FTSE100 increasing 3.15% for the month of October.
Investors holding GBP investments have benefited from strong international equity markets, however the exchange rate between the UK and NZ has suffered. While there are many reasons for currency volatility, the Bank of England holding rates at 0.10% versus the rising interest rates in New Zealand was the main culprit in October. Investors may see some currency relief in the coming weeks, "We do think interest rates will need to rise and they will rise" said Andrew Bailey, Governor of the Bank of England said in the Financial Times, 5th November 2021.
 GBP / NZD exchange rate for five years to 30 November 2021: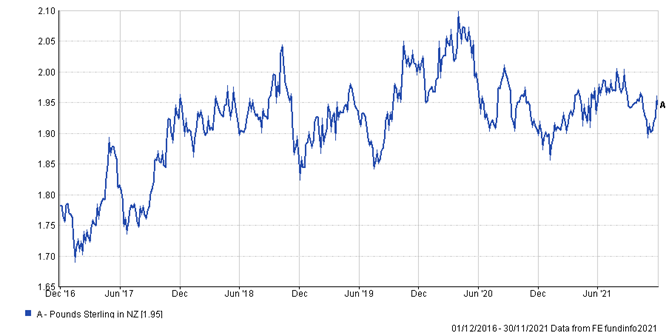 AUD / NZD exchange rate for five years to 30 November 2021: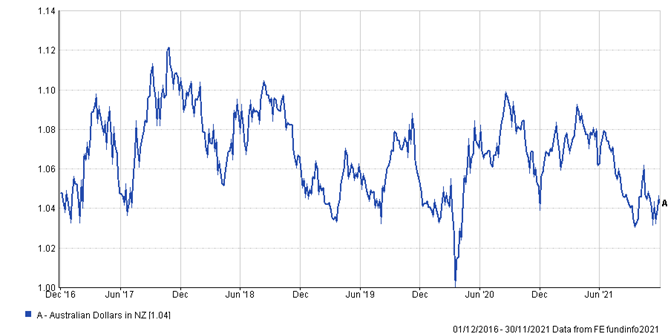 Contact Garrison Bridge
To get a free assessment:
Call us on 0800 254 338 or email us at super@garrisonbridge.co.nz