We are pleased to report the Garrison Bridge investment funds returned positive results for the 12 months ending 31 December 2020. The NZD Conservative fund returned 5.54%, NZD Growth added 10.77%, AUD Balanced 7.90%, GBP Conservative returned 4.98% and GBP Growth increased 10.31%. We are delighted with the results over the last 12 months especially after experiencing the Covid-19 Crisis in March 2020 that saw investment markets around the world fall dramatically.
The final quarter of 2020 resulted in strong equity market returns, as evidenced by the increase in value of the Garrison Bridge growth funds. Which raises the question for the coming year; can the strong performance for equities continue?
With Interest rates at all time lows, investors continue to flock to sharemarket investments to earn returns. This continued demand is pushing equity markets to ever increasing higher levels. Barring a Black Swan event (unpredictable event with extreme rarity), it is hard to see the demand easing.
As investors enjoyed the stella returns from equity markets, it almost went unnoticed that Government and Corporate bond values fell, and yields increased. Rising bond yields is an indication of future potential inflation. This may help Governments repay the huge financial stimulus of recent times, but investors should by wary of inflation rising too quickly. It was the fall in bond values that resulted in the NZD Conservative fund declining in the last quarter of the year.
House prices in New Zealand continue to make headlines, with local economists picking a 16% rise for the year ahead. One leading economist from the ASB bank has suggested that mortgage rates could fall further in the coming months as banks fight for their share of the lending market. Lower mortgage rates will be one factor that is likely to continue driving the housing market, with the REINZ House Price Index rising 15.3% over the last 12 months to November 2020.
It was a relief to see a Brexit deal finally completed, however currency remains stubbornly below $2 to the GBP. With Brexit firmly in the rear vision mirror, we expect attention can now turn towards completing Covid vaccinations for residents, ending furlongs and generally improving the UK economy.
GBP / NZD exchange rate for five years to 31 December 2020: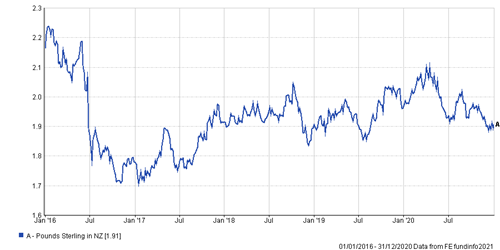 AUD / NZD exchange rate for five years to 31 December 2020:
Contact Garrison Bridge
To get a free assessment:
Call us on 0800 254 338 or email us at super@garrisonbridge.co.nz